Contact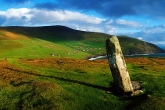 Inquire about
Course title: Pilgrimage and Procession in Ireland
The residential course is part of the informal lifelong learning programme being developed by Culture and Heritage Tours.
This unique experiental course is a combination of formal lectures, group discussions and field excursions. The course will be delivered by a leading authority on heritage and history of pilgrimage in Ireland in the medieval and modern period.
The multi-disciplinary course is designed to draw together strands of information from subjects such as history, archaeology, geography, sociology and folklore and will provide the learner with the skills and competency to gain a better understanding and appreciation of the role of pilgrimage and procession in Ireland and in a wider European perspective.
The course will enable the participants to debate whether there has been a dilution of the spiritual aspects of many of the great shrines of the medieval world, many of the smaller shrines, such as those associated with local holy wells, have arguably managed to continue as a devotional foci from the early medieval period to the present day.
This course is suited to anyone interested in the history, archaeology and heritage of the practice and traditions of religious pilgrimage in Ireland. It is an informal learning outcome based course.
We will forward course dates, learning outcomes and registration fees details upon request (enquiry option).
Please note: * = information is requiered