Contact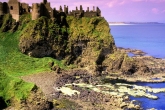 Inquire about
Course title: Saints, Kings and Vikings - Early Medieval Ireland c.400-1100

This interdisciplinary course examines the development of Irish society through time, from the introduction of Christianity between the fifth and seventh centuries, through the turbulent years of the early Viking age, to the changing social and political circumstances of the eleventh century.
The course will introduce the participants to the complex history and archaeology of early medieval Ireland. Among the themes addressed will be the Patrician mission, the development of the early medieval church, settlement and society, royal power, the 'Golden Age', the arrival of the Vikings, raids and raiding bases, urban development, the Battle of Clontarf and the socio-political changes of the eleventh century.
Participants will be introduced to a range of primary sources (all in translation) including the Irish law tracts, annals and some saga material. Archaeological evdence will also be examined.
We will forward course dates, learning outcomes and registration fee details upon request (enquiry option).

Please note: * = information is requiered